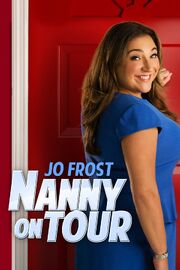 Jo Frost: Nanny On Tour is an American reality television series, themed around parenting skills, hosted by British nanny Jo Frost. The first season ran for 10 1-hour long episodes from January 2016 on Up TV; the company has ordered a second season. Jo Frost also serves as a producer on the show.
Background
The series uses a similar theme that was used in Supernanny, which has Frost traveling to a new city each week and work with one family that desperately needs her expertise. Prior to her arrival, Frost monitors the family's behavior from her mobile RV office through the use of surveillance cameras through the consent of the family after they agree to have it placed throughout their home. Once she sees their weaknesses and errors, Frost helps the families come up with tools and techniques in order to improve their parenting skills, maintain their discipline and relationship with their children, and to keep in touch through progress reports. In addition, Frost also travels to communities where she seeks out help from people looking for advice from family issues to becoming better parents.
Production
The series' format was based on a Dutch version that Frost did for RTL 4 in 2015. The concept was later picked up by Up TV in September 2015.
Frost also wanted to move away from the Supernanny image by adopting a contemporary look: "It was really important to be able to think what kind of format I can develop to allow me to be the staple in a family's home," Frost said, "and be able to look at a wider spectrum of issues we see in 21st century modern parenting."
Reception
The series received a negative review from Salt Lake Tribune's Scott Pierce, who saw an advance showing and isn't a fan of the family-based reality genre because of how it exploits children for ratings: "We know these are bad parents on 'Nanny on Tour' because THEY PUT THEIR KIDS ON REALITY TV." (Yes, I was so upset about this I USED ALL CAP on Twitter.) Frost tweeted back at me: "Watch the show. You will see what a positive difference we are making for American families." If this is all about teaching parents to be better parents, use actors. Use re-creations. Don't exploit kids. That will never happen, of course. Because this isn't about helping families, it's about attracting viewers/making money by using those families. I've watched Frost's shows. If I were she, I'd have trouble sleeping at night."
International Broadcast
In the United Kingdom, the series airs on Quest Red from March 2017.